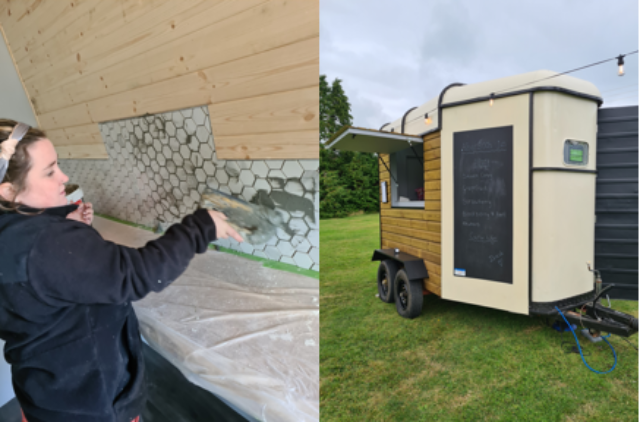 Jinsan is an old horse trailer, transformed into a moving Gin bar! Alaw Williams began the venture to tour events, parties and celebrations selling gin, and with the intention of supporting other small businesses by selling their products! The business began, like many others, during lockdown – Alaw realised she was ready to do something for herself, and start her own venture!
Alaw, tell us what made you start your business?
I was at home with two young children, during lockdown. Like many people, it gave me a lot of time to think about what I really wanted to do. To be honest, like many people, it did also make me fancy a gin…and so the company Jinsan was born! As well as doing this for myself, I wanted to support other businesses by selling local gins and beers from the stall.
How did you get set up, did you approach anyone in particular for support?
The Llwyddo'n Lleol / Enterprise Hub Miwtini start-up programme played a big part in the beginning of my business journey, covering everything from business planning to marketing to finance. The community which formed between us all on the programme was a great support mechanism. I also received support on a personal level from my partner, and from my father – they taught me how to build the trailer myself and transform it into my dream.
What's been your proudest business moment so far, and what has made you think you'd maybe do it differently next time?
It was difficult to really get started until very recently due to lockdown restrictions, so setting up a really striking social media presence was essential for me to start the business. I'm so proud that once I opened for bookings I started getting messages straight away. This gave me a lot of confidence in all the hard work I'd done, it was clearly already paying off.
I'm proud also to base Jinsan on the Welsh language, and it certainly plays a big role in my business – Welsh people are really happy to hear Welsh being spoken and I feel like because I am a Welsh speaker I get extra support from people wanting to support a local business.
I've learnt a lot over the last year and I'm very happy with what I've done, but if I did it all again I think I would buy a newer trailer to do up! It may have been a little more expensive but it would have saved a lot of work to repair it.
Where do you see Jinsan going in the future?
Hopefully still visiting events, but also I have an ambition to open a small bar as well so I can welcome people in, and give them an opportunity to sample many different gins! At the moment I feel I'm missing out meeting people who don't have the space to hire the trailer.
Finally, is there any advice you want to give others?
I'd encourage people to take advantage of any support they can get, and to do their research; ensure what you're selling is what people want to buy! I can't emphasise enough the importance of social media as well, and to keep a constant presence on there.
Cheers, Alaw, and we look forward to seeing the business grow!
Subscribe to our newsletter
Sign up to our newsletter for exclusive content and complementary Business Top Tips PDF!