Hub Member: Gaea Land Services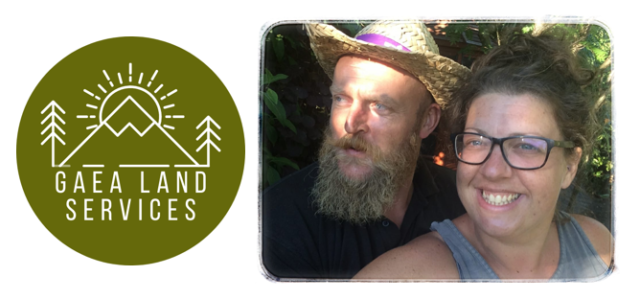 Gaea Land Services is a family run business based in Rhyl, born from a passion for the environment and the outdoors, providing land and garden services. Stephen Hughes and Emma Harding run the business, which offers tree, garden, landscape and groundworks. A key part of the company's ethos is its sustainability, and Stephen and Emma work hard to improve and preserve the local ecology. People's gardens and lands are their patch of paradise, and that's what they work hard to provide!
Tell us how you started the business?
For years, the thought of starting a gardening business had played on our minds and been discussed. It was always something the two of us knew we wanted to do. So, we started with a name! Gaea Land Services was born during lockdown, and from there we started looking for business support. We came across the Enterprise Hub online, and we're thankful that we did! We no longer felt alone and were able to establish the right foundations for our new business.
We're pleased you found us too! Could you tell us a bit about the highs and lows of starting a new business?
To date, our proudest moment is how busy we've been from the get-go! Since we went live our feet haven't touched the ground, and never in our wildest dreams did we expect to have such a successful first summer! We've had some amazing customers and worked in some fabulous gardens.
However, every day is a school day isn't it, and we're still making mistakes. The important thing is we're always learning from them, and we remain confident in our work. With the support of the Hub we also have confidence in the business side of things too!
We want to keep learning and building our reputation in the local community over the next months.
That sounds good. From what you've learned, what would you give as advice to others looking to start a business?
Always ask for help! We know everyone says it, but it's invaluable to gain that business support and advice along the way. It's also so important to enjoy what you're doing; your customers can always tell when your passion shines through. Tying into this – know who you are. Build this into your brand and marketing and keep it consistent.
Well, that advice certainly lays the groundwork for any business! Finally, could you tell us a bit more about how the Enterprise Hub has supported your business?
In so many ways! We redesigned our logo and colour branding from the marketing events, the zoom webinars during lockdown were really valuable. We also found comfort in the support of the Hub community – there's really no such thing as a stupid question, and sometimes we pick up on things we hadn't even thought to ask. The whole experience has definitely contributed to our success and confidence this year.
Thank you, and all the best as the business blossoms.
The Enterprise Hub is part Funded by the European Regional Development Fund through the Welsh Government.
Subscribe to our newsletter
Sign up to our newsletter for exclusive content and complementary Business Top Tips PDF!