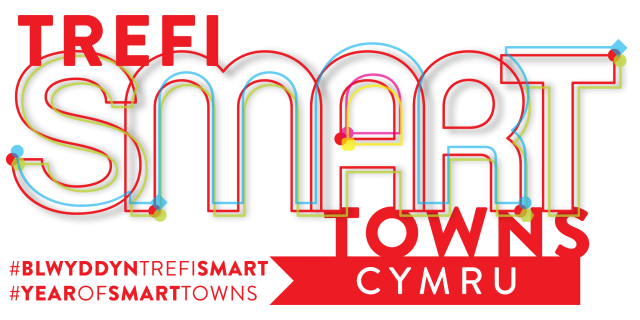 Background
The Welsh Government recently announced a package of support to revitalise Welsh town centres. The aim is to enable businesses to plan projects which lead to economic growth as well as helping them make the best use of digital technology. This includes utilising data to help firms better understand their customer base and trends which will support businesses in their future planning and marketing activities. This will be achieved through 'The Year of SMART Towns' and is closely aligned with the Welsh Government's Transforming Towns agenda and wider funding for town centres.
What is a SMART Town?
A smart town is an urban area that uses different types of electronic methods and sensors to collect data. Insights gained from that data are used to manage assets, resources and services efficiently; in return, that data is used to improve the operations and future prosperity across the town.
How can high street businesses benefit from SMART technology?
We have become more familiar with technology during the pandemic, and it can play an important role in enhancing a town's competitiveness and sustainability as they recover. Having access to data can help businesses understand the interaction and activities of customers and to plan accordingly by making decisions based on accurate data. This can provide exciting opportunities to try new things, measure success and share best practice.
A simple example is analysing footfall data to measure the impact of free parking over a defined period.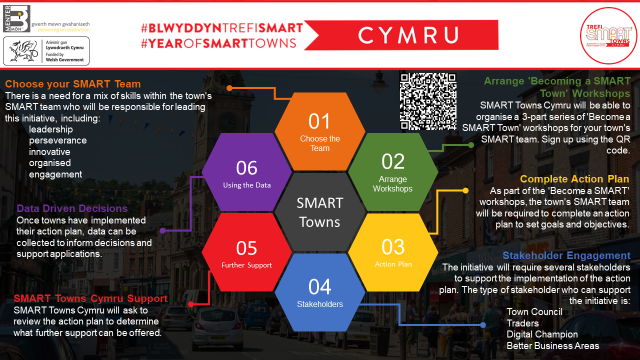 Aims of the Year of SMART Towns
To raise awareness of SMART technology, its application and its benefits in towns across Wales.
To encourage a dialogue around SMART agenda on a local, regional and national level.
To develop 'SMART Town literacy' among individuals and groups involved in town centre regeneration on a local, regional and national level.
To highlight examples of best practice and use cases in towns in Wales.
To facilitate information sharing and collaboration between local, regional and national stakeholders.
To gain intelligence on the data available to towns in order to make informed decisions at a local, regional and national basis.
How will this be achieved?
The Welsh Government is supporting a range of interventions that will engage, enthuse and educate towns across Wales. These interventions will include, but are not limited to the following:
Develop and deliver the 'Becoming a SMART Town' workshop. This workshop will introduce the concept, help participants prioritise suitable challenges, and identify potential SMART solutions within an action plan. The workshop will be delivered over 3 virtual sessions and requires to prior technical or digital knowledge to participate.
Collaborate with 'SMART Town Pioneers' to pilot interventions and highlight use cases. In order to highlight how SMART technology can benefit the high street, the project will collaborate with cohorts of up to four towns per quarter. The aim will be to pilot a range of interventions that include IoT and software applications. The towns will be selected based on their capacity and ability to contribute to the activity.
Develop a SMART Town ecosystem to encourage collaboration and share best practice. This will be achieved through establishing a range of digital platforms, generating content and facilitating discussion and information sharing. The project will also actively nurture communities of interest where there is common challenge.
Highlight best practice and provide access to specialist resources. The 'SMART Town Pioneer' pilot projects will provide content for use cases. The project will build a bank of use cases in the form of short films and resources. The project will also be able to provide specialist advise and introductions to specialists in Wales and further afield.
Create a SMART Towns database. Many towns across Wales have already adopted SMART technology e.g. installing town wifi, measuring footfall or developing a town app. The project will gather intelligence on the SMART technology being deployed in towns and how successful it has been. The project will also gather and share information on expertise available in Wales that could support the adoption of SMART technology.
Commission an analysis of data available to support SMART Towns. Data is already been generated and collected by a number of organisations e.g. public transport, traffic, spending habits etc. Identifying this data and exploring how it could be exploited to provide positive outcomes will be a key task within the project
Who is delivering the project?
The project is being led by Menter Môn who have been piloting a range of SMART and IoT interventions over recent years. They also organised the SMART Town Masterclass series in partnership with Welsh Government. Also on the delivery team is Clive Davies, who has driven the adoption of SMART technology in Cardigan; and Linda Chandler from Hyperlocal Cities, who has multinational experience in SMART Cities.
Contact us:
Subscribe to our newsletter
Sign up to our newsletter for exclusive content and complementary Business Top Tips PDF!