Hub Member: Katy Carlisle - SQSP Queen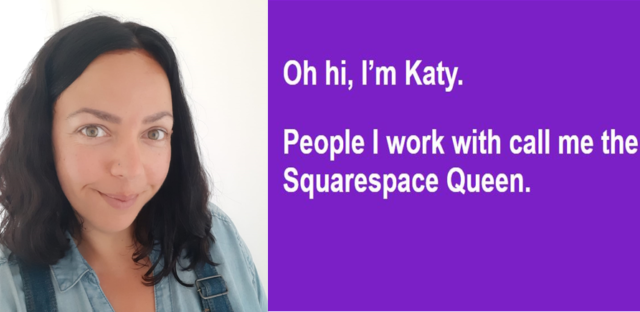 Since 2013, Katy Carlisle has been working freelance, mainly focused on web design. She worked all over Manchester and Sheffield, and in 2019, with her partner working freelance too, they were able to realise their dream of moving to Anglesey, to be able to do more outdoors and in the sea. A visit to M-SParc to check out the local business community led to a chance encounter with Enterprise Hub Co-Ordinator Sara, who just happened to be looking for people to run workshops. Katy has continued to run workshops for the Enterprise Hub, moving them online during the COVID-19 pandemic, and from this has also secured further opportunities to use her skills to teach others, and grow her business.
Katy is a self-employed Squarespace web designer and trainer. She went freelance in October 2013 with a focus on web design, and at the time lived in Manchester. In 2014 she took a financial risk, and booked a stand at the Business Startups Show in London to get a speaking slot. From there, her client base grew, and most her work now comes through word of mouth. From 2015 onwards she focused on Squarespace training, in Manchester and Sheffield, but started to miss office life and so set up Freelance Folk to have pop-up coworking events. Katy was a finalist for the IPSE Freelancer of the Year Award and won IPSE Ambassador of the Year for her work with Freelance Folk.
In 2018 she started a podcast for freelancers, and was also able to go back to being a startup as her and her partner set up a software company. They work on Community Box, a tool which makes it easy to add a directory to your website. The fact that they were both freelance now meant they were able to move, and finally realised their dream of moving to Anglesey – they are both keen paddleboarders and surfers.
While visiting M-SParc to check out the local business scene, she happened to start speaking with Sara, the Enterprise Hub Co-ordinator, who was looking for someone to run website workshops! Katy has since run several workshops at M-SParc, the spoke Hub locations, and online during the COVID-19 pandemic. This has led to further work with Bangor University as well! You never know what networking at Tanio, the Enteprise Hub @M-SParc's café can lead to! Katy is also learning Welsh, with the hope of being able to deliver bilingual workshops.
COVID-19 has been difficult, with many workshops cancelled, but being able to adapt and provide these via Zoom has definitely helped, and Katy has also kept busy working on a side project to develop an online version of her course!
"I've always focused on creating content, and worked early on to grow my audience. Having most of my work through word of mouth was great but it meant I've never done much marketing, and now I want to promote my training and course more it would be helpful to have a bigger community to reach out to. I feel a bit like I'm starting from scratch even though I've been in business for 7 years!
My advice for others starting out is to find people ahead of you and learn from them! The networks at places like the Enterprise Hub can help with this. Remember to celebrate even small wins! A business coach can help with this, and also provide you with a sounding board and some good advice. Finally, listen to your instincts!"
Sara said "It's been great to work with Katy; she herself has been a start-up and knows how our members feel. Having like-minded people like this to run our workshops is all part of the added value the Enterprise Hub can provide; it's about like-minded people working together to succeed!"
The Enterprise Hub is part funded by The European Regional Development Fund through the Welsh Government.
Subscribe to our newsletter
Sign up to our newsletter for exclusive content and complementary Business Top Tips PDF!