Hub Member: Beth Woodhouse - Marketshed Ltd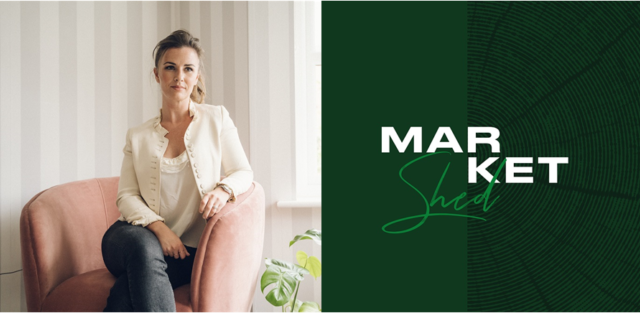 Using over a decade of marketing experience, Beth Woodhouse launched Marketshed Ltd during the Covid19 lockdown, and hasn't looked back. The business is now constantly busy, with a list of loyal clients who rely on Marketshed for everything from social media management, to marketing strategies, and everything in between. Beth shares her top tips, and thanks the Enterprise Hub for their invaluable support.
Beth Woodhouse has 10 years of experience as a Marketing Manager, and is passionate about helping local businesses build their brand. She is an experienced and devoted individual, and has been successful in designing, implementing, and managing brand and marketing campaigns in commercial environments with a need for results and growth. Now, Beth's focus is turning to making her own dream a reality, building a brand and business to help others flourish!
Marketshed provides custom brand marketing strategy and management to others, bringing clarity and the option to outsource all marketing activity, to ensure impact and consistency. Based in Old Colwyn, Marketshed can help an online start-up, or an established company ready to take their next step, by providing tools, ideas, and confidence to convert visitors into loyal, returning customers!
The idea was something Beth always wanted to do, and during lockdown considered her options. "I had great support from my Business Advisor at the Enterprise Hub, Gwenfron Roberts. Her advice, support and encouragement was invaluable in me getting where I am today." Since launching, Beth has already helped set up a new business for a client; building a website, organising a rebrand, creating a social media strategy, created copywriting for all content, and managed and edited a podcast series, as well as writing two custom brand marketing strategies! This is in addition to helping other clients create everything from brand marketing strategies, to Instagram content. The business has very much started off on the right foot!
Beth said "It may have been controversial to launch Marketshed right in the middle of lockdown, but I felt it was right, and the right time to offer my support to businesses who needed direction and clarity in this uncertain climate." Beth's proud moments came when she launched, and again when clients started having the confidence to come on board and work with Marketshed on a regular basis. "As I write this today, with a to-do list as long as my arm, I wouldn't change a thing. I'm incredibly grateful to be so busy in these uncertain times."
Marketshed's offering is completely bilingual, something which was important to Beth, and this has helped gain the trust and confidence of many Welsh clients. She believes it's a crucial part of the service in the area of Wales we live in. Her advice to others is to believe in yourself (if you don't, no one will!), make the most of networking opportunities like the joint Enterprise Hub and West Cheshire and North Wales Chamber of Commerce's online Start-Up Club, and finally be human! Regardless of the product or service, build a real relationships with your clients.
Beth also advises others to look after their mental health – take care of yourself so you can bring the best of yourself to your business. Sara, Enterprise Hub coordinator, agreed "We definitely think mental health and wellbeing is important to any business, which is why Enterprise Hub members get exclusive access to a range of wellbeing support offers when they join, including mental wellness app Thrive and online resources such as yoga and nutrition videos."
The Enterprise Hub is part Funded by the European Regional Development Fund through the Welsh Government.
Subscribe to our newsletter
Sign up to our newsletter for exclusive content and complementary Business Top Tips PDF!