Hub Member: Heledd Owen - Darlunio Heledd Owen Illustration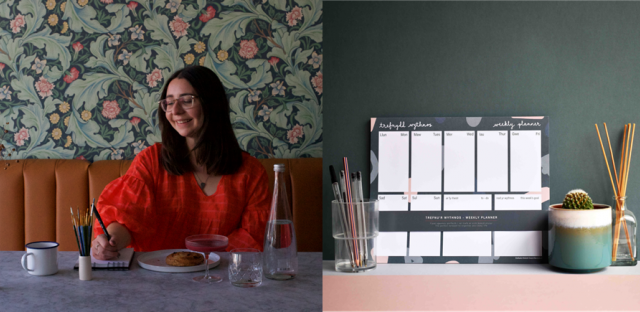 Heledd Owen started the Enterprise Hub's Miwtini start-up accelerator programme and began her Illustration business just before the Covid19 lockdown. By taking part, actively engaging with the workshops, and working hard on a business she believes in, Heledd was able to launch her business. During the lockdown period, she was unfortunately made redundant from her part-time job, but thanks to her dedication and the support received from both the Enterprise Hub and the local community, was able to focus on Darlunio Heledd Owen Illustration, and become self-employed full-time! Her business has grown from strength to strength during lockdown.
Darlunio Heledd Owen Illustration provides a service to create unique commissions and designed prints on posters, notebooks and t-shirts. The idea had been on Heledd's mind for some time, and eventually she decided enough was enough, it was time to make a start. One of the first items she designed was a calendar in November 2019 which received great feedback and gave her the confidence to go for it. When she spotted the Enterprise Hub's advert for the next Miwtini cohort, Heledd signed up, and between Miwtini and the 'turn a hobby into a business' events managed to learn enough to work for herself full-time.
In June, Heledd's part-time work came to an end due to Covid-19, and that also helped give her a big push to go full-time self-employed. She now says it was one of the best things that could have happened. Since her shop is online, she's been able to continue with her sales during lockdown. Over the past few months, increase in demand has allowed Heledd to employ someone one day a week to help out with the business.
Heledd said "My proudest moment was when I launched the 2021 calendar last week; I've never sold as many items in a week as then, and it showed me the incredible increase in sales I've had since the design of my first calendar one year ago."
Heledd advises other businesses that they can be picky with the work they do – she used to accept any commissions, but now decides which ones would be best for her brand and company. She also notes that she uses Welsh every day in the business, and that she has no doubt that this is to be credited for taking the business to where it is now. People, especially during this time, want to support small local businesses.
Heledd also encourages others to get as much feedback and help as possible, because it's impossible to do everything yourself. "I wouldn't be where I am today without the Enterprise Hub, and the online workshops they provided! I feel part of a community now, rather than just me sitting at home trying to come up with all the answers. The Enterprise Hub has made me feel like I have somewhere to come for advice but also to have fun while I'm doing it!" Like many other Hub clients, Heledd also notes the importance of mental health. "There's plenty of time to take a weekend off – things will wait until Monday, and your body will thank you for that."
The Enterprise Hub is part Funded by the European Regional Development Fund through the Welsh Government.
Subscribe to our newsletter
Sign up to our newsletter for exclusive content and complementary Business Top Tips PDF!