Hub Member: Wyn Griffith - Freelance Design & Prototyping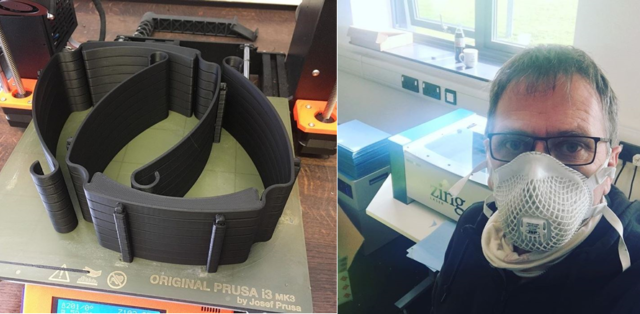 Less than a year ago, Wyn took the leap and left his job at a University to set up 'Wyn Griffith - Freelance Design and Prototyping.' Within a few months, the COVID19 pandemic meant that Wyn had to adapt or face his business potentially failing. He created a prototype no-hands door handle, volunteered to create PPE visors, and is now involved in a new contract to assist with the COVID19 pandemic.
Wyn's journey began 8 months ago, when he left his job in order to follow a long-term ambition – to set up his own company. He specialises in freelance design and prototyping, making use of everything from CAD drawing, 3D modelling, CNC cutting to quick prototyping.
Wyn had already applied his creative skills and wealth of prototyping knowledge both as Technical Lead for the University's Product Design department and latterly as Head Innovation technician at their arts centre.
The Enterprise Hub @ M-SParc was the best place to start, as he was able to access the Ffiws maker space, attend events to meet like-minded people starting their own start-up journeys, and access a business advisor who could help navigate the tricky roads of setting up a business.
With the unexpected arrival of COVID19, Wyn didn't hesitate to use his skills. He designed a forearm door opener which can be temporarily retrofitted, meaning there is less chance of contamination. This design was made available for free, and has been downloaded hundreds of times around the world to be 3D printed, and was featured on BBC Wales News. He has also contributed to the huge community effort of 3D printing face visors. In addition to running his own and the M-SParc 3D printers around the clock at home, he has also contributed to the coordination and distribution of free visors for front line workers from M-SParc. This was done on a voluntary basis made possible by a sharp downturn in client work. However due to his skills, ability to adapt and exposure from his voluntary community projects Wyn has also secured a contract to undertake COVID-19 related prototype engineering.
Wyn said "I knew it was time to take the leap and start my own company, but of course I couldn't have foreseen what was about to happen. However, I'd advise everyone to always be ready to adapt to any situation. As my business is all about being innovative, I'm lucky to have the skills to adapt, and I've been proud to help in this difficult time. It's a huge bonus to have secured a contract, which I can't talk much about at the moment, but will hopefully make a difference and help people further during this pandemic.
The Enterprise Hub has really helped me become a bigger part of the business community, and I would encourage those starting out to think – can you really do this alone? I would say it's always better to be in a position where you can ask for help, and of course where you can help others in return."
Sara, Co-ordinator of the Enterprise Hub, said "We've supported Wyn with business plan writing and variety of interesting events, and in return he has started giving back to our community by helping us set up some of the equipment in the Ffiws maker space and offer courses to other Hub members! It's great to see our members get so involved and using their specialist skills. Especially now, during the COVID19 pandemic, we are so proud to see Wyn helping others."
The Enterprise Hub is part funded by the European Regional Development Fund through the Welsh Government.
Subscribe to our newsletter
Sign up to our newsletter for exclusive content and complementary Business Top Tips PDF!