Hub Member: Jan Lloyd Nicholson - Henry's Cushion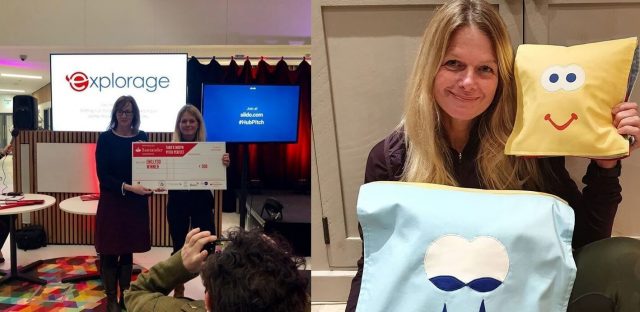 From mature student and mother of 7, to Entrepreneur and creator of a brand-new product to help children with autism communicate feelings, Jan has achieved a lot over the last few years. Through support from the Enterprise Hub @ M-SParc she has received funding, been on television to promote her product, and is now in production! Read the full story of Henry's cushion, below.
Jan Lloyd-Nicholson, a mature student studying Psychology at Bangor University, has come a long way over the past year. This is all thanks to her passion for what she does, help from the Enterprise Hub, and her son, Henry.
Henry has difficulty communicating, and in particular, communicating his emotions. This is something many people struggle with, but for Henry it is made that much more difficult because he has autism. This means he relies a lot on non-verbal communication, which can be isolating. Jan and Henry wanted to work to combat this.
Together, they worked on a solution, and Henry himself designed the communication cushion – 'Henry's Cushion'. This acts as both a comfort to Henry, who can hold it and carry it around with him, but also features images depicting basic emotions such as joy and sadness, which Henry can show others to communicate non-verbally. It's simple enough that anyone can understand what he is communicating and requires almost no instruction on how to use!
Jan came to pitch at the Enterprise Hub @ M-SParc's Pitch Perfect event in March of 2019, one of many events set up in order to help start-ups learn new skills and make new connections, and was awarded a cash prize for the idea. This also gave her the opportunity for publicity via social media, and to appear on Radio Cymru's Gary Wyn show, who was present to record the event!
Jan described the experience as being one of her proudest moments in business. "I could see my presentation on the giant screen at M-SParc, and seeing Henry's face on there was really important. Winning the competition was an amazing feeling and gave me so much confidence."
From there, Jan was able to go on to work with a seamstress to design a number of these cushions, and they are becoming increasingly popular in schools. The intention is to develop the product in order to be able to produce it faster, and more cost-effectively.
Recently, Jan also appeared on S4C, introducing the cushion to a Welsh audience. The Enterprise Hub shared this on social media and saw immediately the enquiries for the product come in!
Sara, co-ordinator of the Hub, said "We've supported Jan with finance, growth, and advisory support, and continue to do so. We're very proud to see her pushing forward with this business, and how quickly we're beginning to see success. This really is the reason the Enterprise Hub was established, and we hope this story encourages others thinking of starting a business so approach us, and see what support we can offer."
Jan's advice to others hoping to follow in her footsteps is to take each step at a time, do your research, and accept all the support you can – you can't do it alone. Bangor University's B-Enterprising team has also provided Jan with invaluable support, leading to being selected to represent the University at the Santander Emerging Entrepreneurs Programme.
The Enterprise Hub is part funded by the European Regional Development Fund through the Welsh Government.
Subscribe to our newsletter
Sign up to our newsletter for exclusive content and complementary Business Top Tips PDF!