Hub Member: Alex a Rachel - Martha Loves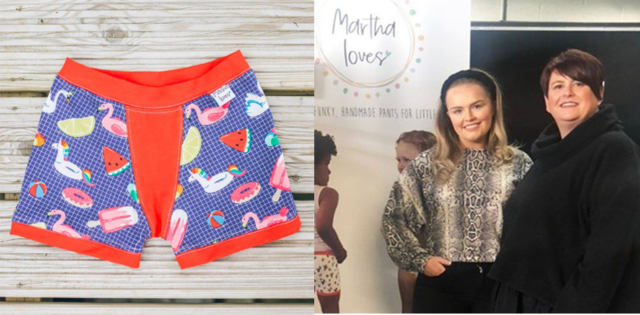 Rachael and Alex developed Martha Loves in 2019, designing and handmaking underwear for children. They had been established for a year when lockdown was announced – they couldn't even access their workshop for a while and times looked difficult! But by being resourceful, adapting to new challenges, and always pushing the business forwards, they have managed to not only stay afloat but grow and even diversify their audience in the process.
Rachael brought her sewing skills and Alex her social media expertise to setting up Martha Loves. The friends worked tirelessly on an idea which they had market researched – colourful, ethical underwear for children. There were limited numbers of people out there doing this, so they knew they had a niche. They set to it, establishing the business making small amounts of underwear with custom designed fabric.
At first they weren't going to have a website. "I made the website myself, that's all done by me, and we realised that it was a brilliant way of selling. We had been going to craft fairs and things regularly, but of course can't happen at the moment, so the website has been crucial." Said Alex. Rachel noted how useful social media has been, and says "People buy from people; show who you are on your social media, that's definitely helped our audience grow."
Alex's defining moment came in 2019 when they moved in to the space at Congl Meinciau, one of the Enterprise Hub's satellite locations. "I walked in with my sewing machine, that I've had since I was 11, and set it down on the table and thought…wow! It's happening!" For Rachael it came at a craft fair, when a young boy ran over to point at some underwear, and announced proudly that they were the pants he had on, his favourites!
They support each other as they go, adapting and changing the business. Initially they thought they were marketing to mums, but soon found they were selling gift items, and changed marketing track. Through the pandemic they have diversified by creating face masks. Everything from the packaging to the fabric is ethical. They even stuck to this principle during the pandemic, when packaging was much harder to come by.
Support and advice from Business Advisor Darren Morley at the Enterprise Hub in Congl Meinciau was also invaluable "Darren's always there to talk to, making sure we're on the right track and he always knows who can help us when we need additional specialist support." Martha Loves have fully embraced being members of the Enterprise Hub, even being inspirational guest speakers on a webinar showcasing their development through the pandemic. They have also gained a mentor via the Business Wales service. But it is their passion for the business, and willingness to ask for help and keep learning that has really seen the business grow from strength to strength. Post-pandemic, it will be very exciting to see how this company grows.
The Enterprise Hub is part funded by the European Regional Development Fund through the Welsh Government.
Subscribe to our newsletter
Sign up to our newsletter for exclusive content and complementary Business Top Tips PDF!