Hub Member: Thomas Turner - Ember Technology Design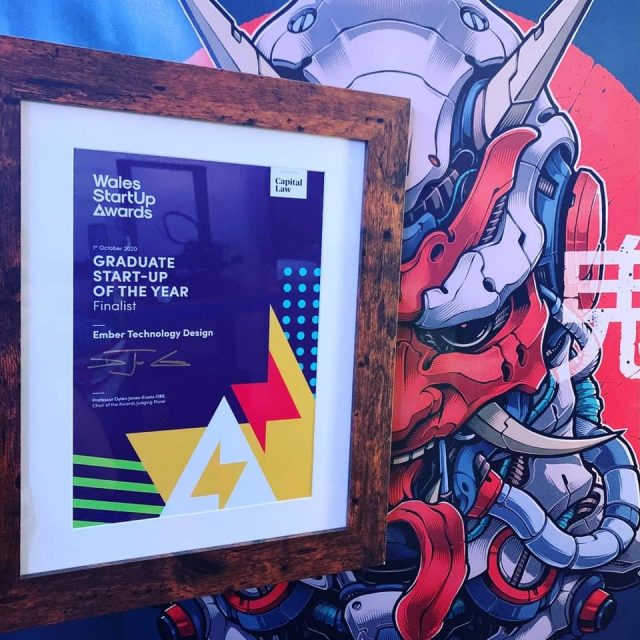 Thomas Turner graduated from Bangor University's Product Design course in 2019. He decided to utilise his skills to create Ember Technology Design which focuses on offering design related services to local businesses and start-ups across North Wales. He took advantage of the first Pitch Perfect event held by the Enterprise Hub, and gave a winning pitch, allowing him to start the business. The help received from the Enterprise Hub @M-SParc as well as Bangor University's B-Enterprising, helped fast-forward his business growth. Within the next few years, Thomas looks to develop his business further, setting up and office and hiring local talent to help develop innovative products, targeting a global market.
After graduating from Bangor University's product design course, Thomas Turner decided to use his skills to set up a company. He entered the Enterprise Hub's pitch perfect event just before graduating and was one of the winners of the night! He took advantage of the office space at M-SParc provided for Bangor University students, through the B-Enterprising programme, and accessed business support through the Enterprise Hub.
Ember Technology Design was set up in response to a niche in the market for design related skills in North Wales. Thomas informs local businesses of the value and possibilities design can bring to their business, and how it can help develop current products. Thomas said "My excitement for design stems from interpreting the desires of clients and translating them into feasible designs that can sell. I love the community in north Wales and all the different opportunities to connect with so many varied businesses. This in turn has enabled me to develop my own business further."
Covid-19 hasn't had a huge impact on Ember Technology Designs, because the majority of their work was already conducted using online platforms such as Zoom and Miro, which allowed for project timelines and quotes to be mapped out for clients. However, Thomas chose to adapt the business to 3D print face shields for the NHS for a short period, as part of a movement across north Wales. In recent weeks, the business has been using online platforms to sell more of their own products, diversifying the business model and making the business more efficient in the long run.
Thomas' advice to those starting a business is "Spend more time planning! If I could go back in time I would try and reign in some of my initial excitement of jumping straight in, and plan more effectively. Do your research into your industry, find what's trending, and create a business plan to help define all aspects of your operations. This is also helpful for when you start seeking investment."
Within the next few years Thomas aims to utilise the Welsh language further, in order to provide a fully bilingual service, and to develop the brand further to set up an office and supply chain in north Wales, hiring local talent and developing innovative products for the global market.
Sara Roberts, Enterprise Hub Co-ordinator, said "Thomas took advantage of all the Enterprise Hub has to offer, from the co-working space, to workshops and events, networking, the Ffiws makerspace…he is another example of how being proactive about the support available and really getting the most out of it can fast-track your business. He now has a sound business plan in place and is looking to the future for his company. We wish him all the best."
The Enterprise Hub is part Funded by the European Regional Development Fund through the Welsh Government.
Subscribe to our newsletter
Sign up to our newsletter for exclusive content and complementary Business Top Tips PDF!