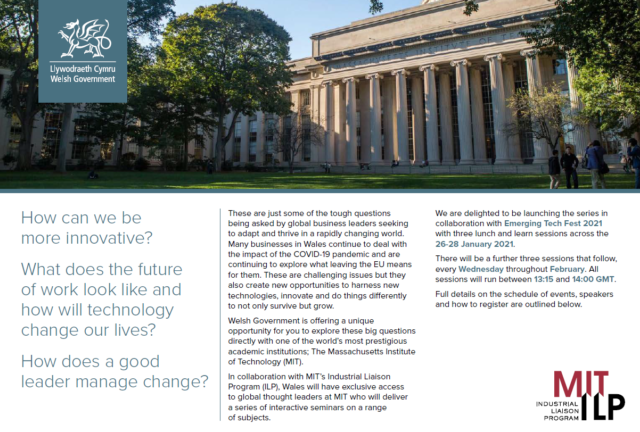 If we can't go to MIT, we'll bring you MIT!

As part of the Welsh Government 's membership of the MIT Industrial Liaison Program, they have organized a series of high - quality speaking events for
Welsh ecosystem businesses and stakeholders taking place in January and February this year
The Welsh Government has teamed up with Technology Connected to launch the conference series, with three sessions being delivered as part of
'Emerging TechFest'
over 26-28 January 2021.
Three more sessions will then run once a week every Wednesday from 3, 10 and 17 February under the care of Alwen Williams. All sessions are over lunch from 13:15-14: 00.
The Welsh Government has established strong relationships with the Massachusetts Institute of Technology (MIT) in recent years through membership of the Industrial Liaison Program (ILP) - https://ilp.mit.edu/. In this way they can facilitate MIT for Welsh businesses access to online resources, exclusive access to conferences and seminars and bespoke meetings with MIT faculty, all of whom are global thought leaders in their respective fields.Working closely with MIT, they have developed an enhanced digital offer in response to Covid19 in the light of restrictions that mean we cannot physically go to MIT in Boston for the time being. This virtual conference series will feature six online seminars on a range of topics, presented by an impressive list of MIT speakers for Wales only. Each session will be approximately 45 minutes in length and will include an interactive question and answer session for attendees to ask questions directly to each speaker.
This is a free event with costs incorporated into the Welsh Government's ILP membership and is open to all - so it's also a unique opportunity for Welsh businesses.
If you have any questions, please email
WelshGovernmentILPMIT@gov.wales
26 January

Work of the Future

Dr Elisabeth Reynolds
Elisabeth B. Reynolds is a Principal Research Scientist and Lecturer in MIT's Dept. of Urban Studies in Planning. She is the executive director of the MIT Industrial Performance Center and more recently, became executive director of MIT's Institute-wide initiative on the Work of the Future (WotF).
WotF was launched in 2018 to understand the relationship between technology, work and society and how technology can be developed to enhance
and augment human activities.
27 January

Leadership & Digital Transformation

George Westerman
The Covid crisis accelerated many changes already underway with digital transformation. It also introduced huge amounts of uncertainty for managers and workers. In this talk we'll discuss how leaders can help the company, and its employees, to emerge successfully from the crisis.
We'll share research-driven insights on how you can build a more digital-ready culture that responds quickly to fast-changing conditions, how a transformative model of Learning and Development is ideally suited for the current reality, and how today's challenges can position you to drive digital transformation more powerfully than ever before.
28 January

Climate Change & Decarbonisation

Dr Asegun Henry
Dr. Asegun Henry is the Noyce Career Development Chair Associate Professor in MIT's Department of Mechanical Engineering. His research inter ests include novel energy system concepts that help to mitigate the effects of climate change, including solar energy, energy storage, and transportation.
Dr Henry examines the destructive force that is climate change and explores what opportunities are available and how companies can profit in the climate change economy.
Subscribe to our newsletter
Sign up to our newsletter for exclusive content and complementary Business Top Tips PDF!