Hub Member: Siwan Williams - Gemwaith Gwyndy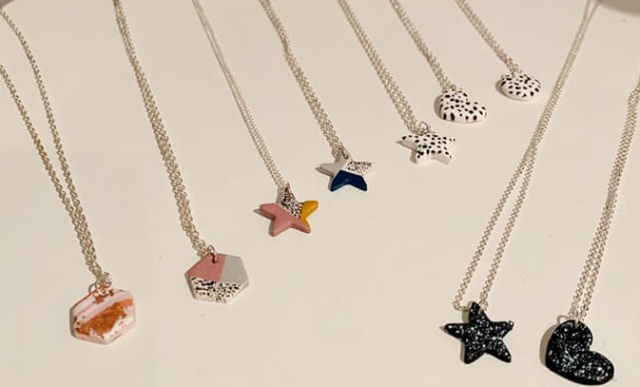 Student Siwan Williams, with support from Llwyddo'n Lleol and the Enterprise Hub's Miwtini start-up programme, has grown her 'lockdown hobby' into a business. Although she finds it difficult to balance her studies and her business, support from the Enterprise Hub has helped keep her on track, and the business moving in the right direction. Only a few months old, Gemwaith Gwyndy clay jewellery is now going from strength to strength.
Siwan from Gwynedd is a final-year student at Aberystwyth University, studying Childhood Studies. She is also owner of 'Gemwaith Gwyndy'. Gemwaith Gwyndy creates unique jewellery from polymer clay. The business is now selling through Facebook, Instagram and Etsy.
The business was born during 'lockdown', when Siwan was looking for something to occupy her time. After buying some clay to play around with, she decided to check if there was a gap in the market and found that there weren't many clay jewellers in the area. As soon as she began putting pictures on social media, there was immediate interest. It was then that she was made aware of Llwyddo'n Lleol 2050 – a programme to help young people realise the opportunities available to remain in Gwynedd and Anglesey. 14 individuals with business ideas were chosen and awarded £1,000 and a 10-week business support programme to develop their business. This support included a chance to pitch at the 'Pitch Perfect' event run by the Enterprise Hub on a pirate ship on the Menai Straits, as well as further support once the 10 weeks were over.
Because the business started during COVID-19, Siwan says she hasn't noticed a negative impact. Due to the fact that online shopping has increased, and people are keener than ever to 'shop local' the business has actually gone from strength to strength over the past few months. Her proudest moment was reaching 3000 Instagram followers, and seeing returning customers placing more orders! Although she wouldn't do anything differently, Siwan notes the downside of running her own business is that it's sometimes difficult to get a balance between University work, a social life, and running a business.
Siwan shared some advice with us. "Don't ever doubt yourself – everyone is different and something you like, someone else may not. That's OK! Ensure you've always got stock ready, so you can send things quickly to customers, and remember that no matter how much they test your patience, the customer comes first! There's a fantastic community of Welsh businesses who are great at supporting each other, and I love being part of that."
Sara Roberts, Enterprise Hub Co-ordinator, said "It's fantastic to see a young person taking the initiative and asking for support when she needed it, that's what we're here for after all! It's great to see her not only taking her studies seriously, but taking her business seriously, and accessing all the support she can in order to achieve this. Siwan really made the most of the community that formed between the 14 individuals, sharing experiences and advice along the way. It's also an excellent example of how two programmes, Llwyddo'n Lleol 2050 and the Enterprise Hub's Miwtini start-up programme can work together for the benefit of the individuals involved. Collaboration is key."
https://www.facebook.com/gemwaithgwyndy/
The Enterprise Hub is part Funded by the European Regional Development Fund through the Welsh Government.
Subscribe to our newsletter
Sign up to our newsletter for exclusive content and complementary Business Top Tips PDF!