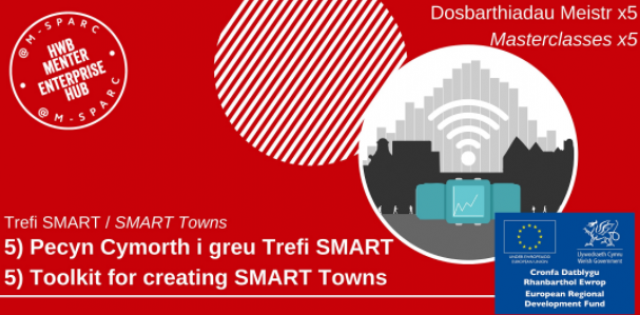 Toolkit for creating SMART Towns
Background
The introductory event looked at whether we could monitor the health of High Streets in the same way as we monitor our own health. Rather than counting footsteps can we count footfall? Rather than measuring the benefit of exercise can we measure the benefit of free parking and pedestrianised spaces? Rather than tracking our fitness over the year can we track the visitor numbers?
The technology exists and is already being used in Welsh towns to make informed decisions and plan for the future. Given the pressure on the High Street and the impact of COVID19 it's important that businesses are able to exploit digital technology, in the same way as supermarkets and shopping centres have done for years. These masterclasses are being held by Menter Môn through the Enterprise Hub and supported by the Welsh Government, as part of its 'Transforming Towns' town centre regeneration agenda.
The introductory event can be viewed here.
5th Masterclass - A toolkit for creating smarter towns.
The final masterclass presented a toolkit for creating SMART towns. The toolkit will help guide towns through the process of implementing and utilising sensors and data. As part of the toolkit a series of workshops will take place to encourage and implement SMART town projects using concepts learned across the master classes. In addition to the workshops, useful resources will also be made available there will also be useful resources including videos, presentations and podcasts.
Subscribe to our newsletter
Sign up to our newsletter for exclusive content and complementary Business Top Tips PDF!