Chamber locates to Enterprise Hub @ M-SParc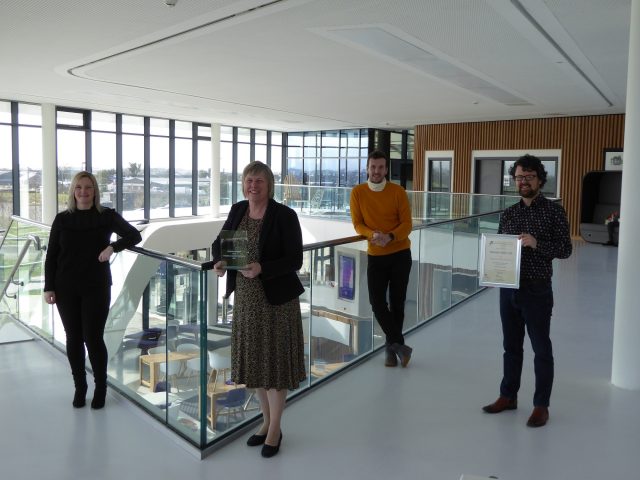 Following nearly two years of Chamber membership, the West Cheshire & North Wales Chamber of Commerce is delighted to announce that both Menter Môn and M-SParc have solidified their relationship with the Chamber via Patron membership.
The Enteprise Hub @ M-SParc is one of five Enterprise Hubs across Wales, funding by European Regional Development Funding through the Welsh Government and is run in partnership between Menter Môn and M-SParc.
Menter Môn, based in Llangefni, Anglesey, is a not-for-profit company providing solutions to the challenges facing rural Wales. Menter Môn works with businesses, communities and individuals to deliver meaningful projects that harness their strengths and contribute to a sustainable future.
M-SParc is Wales' first dedicated Science Park, owned by Bangor University and providing space and business support for companies in the low carbon, energy and environment, ICT and life science sectors.
The move sees the partnership joining the Chamber's growing list of Patron members and will lead to a close and strong partnership between the organisations, enabling the Hub to raise awareness of their diverse services and support to businesses.
The Enterprise Hub @ M-SParc and the Chamber have been collaborating over the past 12 months running the North Wales Start-Up Club. The North Wales Start-Up Club has enabled businesses in operation for under two years meet via monthly virtual meetings to share best practice and hear from industry experts on key topics.
As part of the Chamber's 100th year of supporting business, the Chamber has also announced that it has opened its first office in North Wales, in the Enterprise Hub's flagship location at M-SParc. This is a fantastic opportunity for the Chamber to be even closer to its North Wales members and allow both organisations to work even closer going forward.
"Menter Môn and M-SParc are very proud of the success of our collaboration with the Chamber, the culmination of which sees them opening a new Chamber office here at the Enterprise Hub.
"We are also delighted to become Patron Members.
"Having the Chamber team on site will allow us to collaborate even more closely on projects, encouraging innovation and international trade, support local businesses, encourage start-ups, and celebrating the depth, breadth, and success of the region. There is so much we can do together," said Bethan Fraser-Williams, Commercial Contracts Manager at Menter Môn.
Debbie Bryce, Chief Executive Officer at West Cheshire & North Wales Chamber of Commerce, is thrilled to welcome the Enterprise Hub as Patron members of the Chamber. "We have been working closely with Bethan and the team at Menter Môn and M-Sparc for some time now, and their passion and commitment to supporting business is truly commendable."
"We are really looking forward to what the future holds, and our new office based in M-SParc will give us a great platform to further support businesses in North Wales as we work closely with Menter Môn and M-SParc to improve growth and prosperity; in the region."
Subscribe to our newsletter
Sign up to our newsletter for exclusive content and complementary Business Top Tips PDF!