Hub Member: Lily Pad Doormats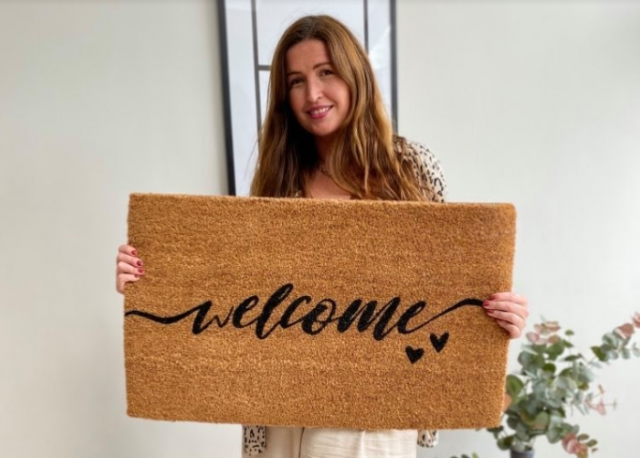 Dona was made redundant just before the pandemic, and used her experience as a senior buyer for large retailors to start her own business. Lily Pad Doormats trades online, selling unique, eco-friendly doormats made from coconut husks. Following support from the Enterprise Hub, Business Wales and the Development Bank, Dona was able to trade successfully and hit a milestone of 500 sales in January.
Donna, tell us what made you start your business?
I have always worked in retail, in head office and as a senior buyer for companies including ASOS and Primark. Last year I got made redundant just before the pandemic hit, and as a result could not find a new job. As a single mother, needing to support myself and my daughter I decided to put the skills I had learnt working for someone else for over a decade to good use and started by own retail business. I have set up a small business, trading as a sole trader, offering unique, stylish and eco-friendly door mats, retailing online. The mats I design here in Wales, they are made of coconuts (coir from coconut husk) by our specialised supplier that we work closely with.
How did you get set up, did you approach anyone in particular for support?
After a lot of research and some test trading which I did by myself, I contacted the Enterprise Hub and Business Wales and was given a huge amount of support by them. I attended many online webinars where I learnt a lot about running a business online, and I received 1-2-1 advice for my website, as well as support from an accountant. The Development Bank gave me help with accessing a business loan.
Having started trading in markets, I have been unable to carry on with that, and have now moved everything to online. I sell majority of my stock now online through Amazon, as well as our own website. We will also start selling in independents here in Wales this Spring.
What is your proudest business moment?
There have been so many proud moments, from sending out our first mats, launching on Amazon, having record sales with them every week, having independents contact us to sell our mats. The biggest achievement so far has been when we hit 500 sales last month, to think 500 houses have one of our doormats. I bought myself a ring from a small welsh business to celebrate and remember that moment. We are now on for hitting 1,000 soon.
Amazing, well done! Is there anything you would do differently?
Shipping without a doubt! I have suffered many delays with shipping, which has impacted the growth of my business. I had no experience with this side of the business I had agreed to let the supplier take charge of the shipping, as Low Container Load and Freight. Having learnt the lessons, we now work as Full Container Freight, and would advise anyone else to do the same.
Also, we launched with English doormats, and have only just added Welsh mats. There has been such a positive response to our Welsh mats, I would have launched with Welsh at the same time if I could go back. We are now trying to catch up with the demand and offer more.
Is there any advice you would give to other entrepreneurs?
Do your research – I scrapped 3 business ideas before landing on this one!
Get support – I have two Advisors, 1 the Enterprise Hub and 1 at Business Wales, 2 mentors, and a life coach, which has been a great support as it can be very difficult to start out.
Funding – Make sure you have enough cash from the start, it's hard to grow quickly without it.
Social Media – use it and be consistent, but don't rely on it for sales.
The Enterprise Hub was a big help, giving me someone to advise and talk to, and keep me updated on financial opportunities. I felt like part of a community. I can't wait until the shared space opens up again, so I can make the most of that.
The Enterprise Hub is part Funded by the European Regional Development Fund through the Welsh Government.
Subscribe to our newsletter
Sign up to our newsletter for exclusive content and complementary Business Top Tips PDF!