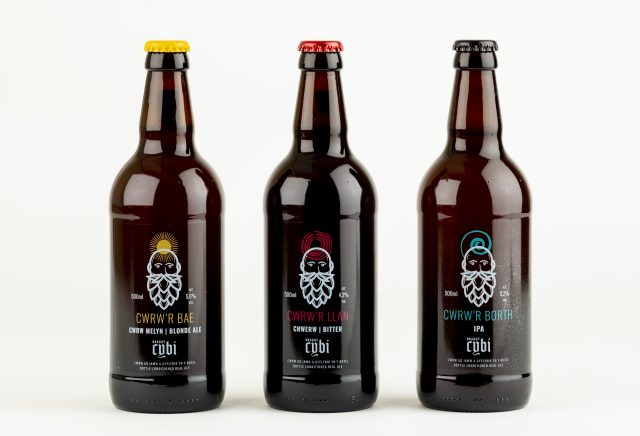 Bragdy Cybi Ltd was established by husband-and-wife team, Bethan and Daniel Jones. The two of them run all aspects of the business, from bottling to labelling, and since they started online sales at Christmas, the dispatch too. The small brewery often runs out of beer due to demand, and are now moving to an industrial unit to decuple the amount of beer they can produce! Bragdy Cybi is currently crowdfunding for new brewing and bottling equipment.
The journey began when Dan lost his job last year. Wanting to go in a different direction, he decided to look into brewing and realised this could be his next career! With support from the Enterprise Hub, Business Wales, and Cywain for everything from courses to 1to1 advice, the business quickly gained momentum.
Husband-and-wife team Dan and Bethan now work full time in the small brewery, doing everything from making beer, bottling, and labelling. The shop on sites sells beer and gifts, and their popularity means that they often run out of beer. So, less than a year after opening, they are expanding! They have just acquired an industrial unit, and will be producing 10 times as much beer, while also extending the shop into the old brewing site.
In order to purchase the new brewing and bottling equipment, they have turned to crowdfunding, and have already gathered attention from many local businesses and organisations. They aim to reach an ambitious target of £18,000.
As Bragdy Cybi was established during the COVID pandemic, the pair are not able to comment whether it has affected business however the lockdown periods did naturally slow footfall. This was the catalyst to quickly move to online sales. They also purchase a van, a traveling pub of sorts which allowed people to purchase the beer without breaking lockdown restrictions.
The couple are Welsh, and so naturally advertise bilingually – something which has definitely aided their success. They have been interviewed for Radio Cymru and S4C, and local people are keen to support Welsh businesses which in turn supports the Welsh language.
Their advice to those starting out is to "accept all the support you can get, do your research, and to keep at it!"
Sara Roberts, Enterprise Hub Coordinator, said "The team at Bragdy Cybi have shown real drive to make their business a success. They've asked for help, and they have very quickly used that advice and acted, which is fantastic to see. It's great to see them attending workshops, and really integrating themselves into the business community by networking as much as possible. They are a great example of how to take advice on board – don't save it for later, but put it into action as soon as possible, to take your business from strength to strength!"
The Enterprise Hub is part Funded by the European Regional Development Fund through the Welsh Government.
Subscribe to our newsletter
Sign up to our newsletter for exclusive content and complementary Business Top Tips PDF!