Hub Member: Elin Crowley - Ennyn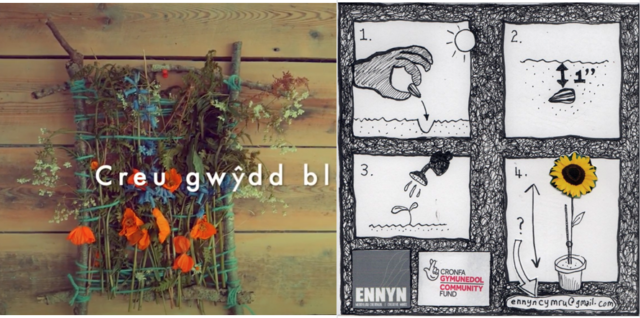 Ennyn is a community benefits company, offering art workshops in schools and communities. The company works on a linear employment basis, with four directors and no staff, with the aim of ensuring children divulge and involve themselves in art. They are proud to be able to offer this service in Welsh, as well as English. During the COVDI19 pandemic, when schools are shut, they've been able to innovate and adapt their whole business model. They are now offering all workshops online, and leave packs outside local shops for the community to become part of the project. This has allowed the business to continue providing artistic opportunities during a time where, arguably, it is most needed by the community.
Ennyn is a community interest company, delivering bilingual educational art workshops in schools and communities. The intention is to create a shared experience and outcome in order to bring communities together, and allow everyone to access and enjoy the arts. Creativity can also be used to promote individuality and wellbeing, and this is all part of Ennyn's ethos. The company is owned and run by two artists, a gardener, and a GP. The perfect mix of skills to carry out this ethos.
Workshops are for all ages, and include everything from T-Shirt making, to poetry, and everything in between. The company was going from strength to strength when the COVID19 pandemic hit, meaning schools and communities were closing and unable to access Ennyn.
Nicky Arscott, one of the Directors, said "Art is so important for wellbeing, and to help children find their individuality, but it can be quite closed off to some in the community. We want to show that art is accessible and available for all, and especially so during difficult times like this. So, with the help of the Enterprise Hub, we were able to adapt our business and take everything online.
We've got a website and social media set up, and are able to leave packs in local shops in the community. This way, we feel we're making a difference and able to help people, which proves one of the company's main aims – bringing people together and promoting wellbeing with creativity."
Gwenfron, a business advisor for the Enterprise Hub, said "We were able to help provide business advice to Ennyn, and also to ensure they were aware of relevant workshops and events for their business, arranged and hosted by the Enterprise Hub. In particular with grant funding support and a business case, I was able to offer advice that really helped the company move forwards, and that's fantastic to see."
Nicky added "I would recommend the Enterprise Hub to those starting a businesses, and if I could offer advice it would be to keep asking for help, and to communicate and be open minded to every idea and offer of support."
The Enterprise Hub is part funded by The European Regional Development Fund through the Welsh Government.
Subscribe to our newsletter
Sign up to our newsletter for exclusive content and complementary Business Top Tips PDF!