Hub Member: Awen Ashworth - Sbarduno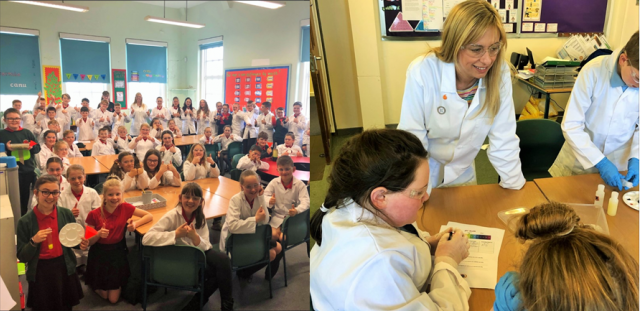 Drawing on her experience as a Chemistry teacher, and following her work in industry, Awen Ashworth combined the two strengths to create Sbarduno – a workshop and training offer providing science experiments for people of all ages. From workshops in schools, to science parties, Awen aims to make science fun and accessible to all, so that kids can really feel inspired about the possibilities for their future careers.
Sbarduno is a business created by Awen Ashworth, to share her teaching and industry skills in order to inspire people of all ages! Sbarduno provides a range of services, from workshops to training. The workshops are practical science activities which can be tailored for all ages, from schools to parties. Through an academy, Sbarduno offers support to pupils in primary and secondary schools in a range of subjects. The training provides courses based on science, which present experiments to be used in nurseries or schools.
The business began in 2019, and before that Awen was working in a local industry, and had previously been a high school Chemistry teacher for 10 years. Over the years, it became apparent that there weren't enough resources for experiments in school, and Awen believed that children get inspired by science at an early age if they are able to develop their skills in a fun an interesting way. Thus, Sbarduno was born!
Sbarduno's first year was a success, and the business was due to expand, when COVID19 hit. This has postponed those plans, but has allowed Awen to adapt the business and develop in a new direction, including online recorded videos, livestream sessions and at home packs.
Awen said "Always think of more than one idea or direction to move your business in, so that you're ready and able to adapt. My proudest moment is the job satisfaction I get when I've managed to get pupils who previously hated science to enjoy it!" The service is available in Welsh, English, or a mix of both, and this has helped a lot in providing the service to schools in Wales.
Sara, Enterprise Hub coordinator, said "Awen was one of the first Hub Members, and really made the most of all opportunities. She used the co-working spaces in Tanio / Ffwrnes in order to network with the science and technology community within the Hub @M-SParc, received business advice, attended workshops and events, connected with other members, and the benefit of this is clear. The more you put in to becoming a fully-fledged Hub member the more you get out of it! Awen has now even started presenting her experiences at some of the Hub's events, and is a great example of the journey you can take through the Enterprise Hub and the extended Business Wales family."
The Enterprise Hub is part Funded by the European Regional Development Fund through the Welsh Government.
Subscribe to our newsletter
Sign up to our newsletter for exclusive content and complementary Business Top Tips PDF!