An 8 week programme that's here to help you start your business, with everything from business planning, to financing, to a community of support behind you!
Take action, start a Miwtini in your life, start your business!
Our next Miwtini is in partnership with The Design Trust and DVSC Change Makers Market.
This Focus is on Creative and Digital businesses, and will be specifically designed for those starting or growing a business in those sectors.

If you want to get started on Miwtini, you'll know it takes some planning, and here's what we've mapped out for your Creative and Digital businesses. Remember, each step signals your journey to a successful and responsive business, and we're with you every step of the way, charting a course and navigating any stormy seas we encounter!
June 2nd - Welcome Aboard and Building your Armada
This is where you'll meet your business advisor, and learn about mentoring and seeking support.

June 9th - Fill your treasure chest...with information
We'll look at your business plan, chash flow and research; the three most important things for any business.

June 16th- Mapping your journey
This session is really thought-provoking and helps you think bigger and more strategic.

June 23rd- Fund your future
Alternative income streams for creatives will be explored; a real chance to share ideas and open your mind, to find ways you never knew you could use your skills.
June 30th - Your website!
No pun here...this is one of your most valuable assets in a digital age, and there'll be a lot of examples of best practice on a low budget.

July 7th - Set Sale
That's right, we'll look at sales and how to ensure you turn visitors into buyers of your product or service.

July 14th - Pitching for treasure
We'll teach you everything you need to know about pitching a business idea, presenting it to investors, and what you need to include. Skills you'll soon be using...

Pitch Perfect!

The chance to pitch your business idea, for potential investment.
This may all sound a bit daunting, but that's what Miwtini is all about. Push yourself, ask for help, follow our lead, and by Pitch Perfect you'll be surprised at how mature your business is and how sound your business plan will be. You've got nothing to lose. Register Now!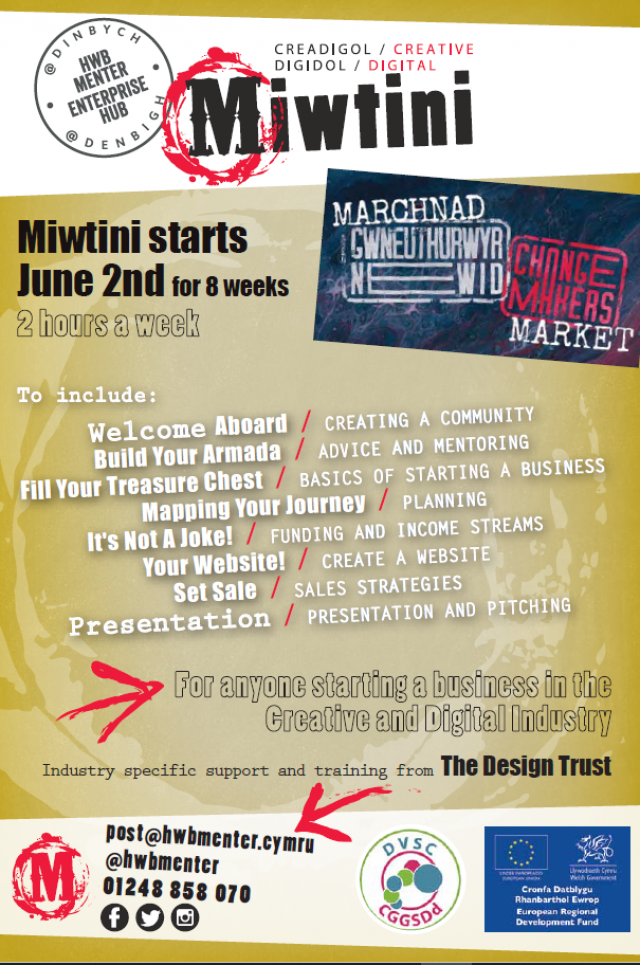 Subscribe to our newsletter
Sign up to our newsletter for exclusive content and complementary Business Top Tips PDF!